We never backup frequently enough that's why I'm reviewing Backup4All, a powerful utility which backs up your important files without effort.
We all get mad when we lose our precious files for different reasons, human error or computer crash. Still statistics show that we don't do much about it, "It won't happen to me!", most think, including me. We're wrong. Just a few days ago I wished I had a backup when I accidentally deleted a very important PHP file…
The easiest way to backup, is of course to use a backup utility like Backup4All, developed by Softland.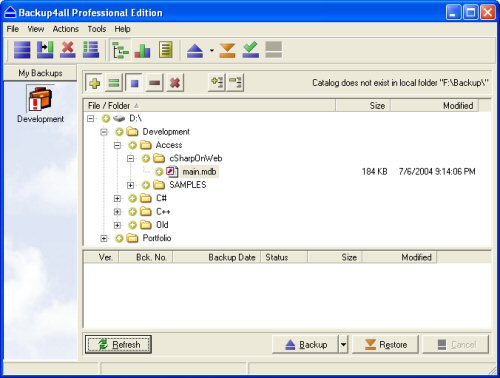 The main window of Backup4All – click on it for the real size screenshot.
This application has all the features you would ever need in a backup utility – backup scheduling, file filters, diferential backup, incremental backup, organizing in groups, statistics and even CD-R/RW backup:

You can organize your backups into groups and add new backups using a simple wizard. First step: you choose a name for the backup, an icon and the group you want to use. Second step – you choose which files/folders you want to backup (see screenshot). Third step, you choose the destination where the backup files will be saved. On the forth step you can set additional options like the maximum number of backups to be stored and even password protected your backups. On the fifth step you can add filters to your backup so only files with specific file size, attributes (read-only, hidden), date, extension or name will get a backup. The next step is the scheduler, where as expected you can choose a specific date and time (daily, weekly, monthly…) the backup should be done. On wizard step number seven you can choose more advanced options like running a program before or after the backup, testing the backup. Of course, if you are not interested in all the steps you can only do the basic ones and press finish at any time. So it's clear that the wizard proves to be very useful.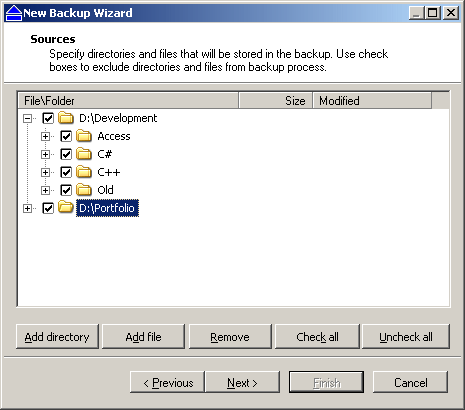 Step number 2 in the wizard – choose the directories / files you wish to backup.
Another plus for this application is that the compression is done in ZIP so you can access your backups without having to use the application. Also the password is set on the archive so there's nothing to worry about.
Conclusion? I never used a backup utility frequently, but I will be starting today thanks to Backup4All.