I just installed Internet Explorer 7 Beta 1 and took a few screenshots. Let's have a look over the new features Microsoft introduced.
I double clicked on the newly created icon in the taskbar. The layout of Internet Explorer 7 looked kind of strange. The address bar on top, then the tabs, then the menu. I tried moving them around a bit, to bring the address bar below the tabs and the menu, but it didn't work.
10 minutes later, after browsing a little, I got used to it and I don't find the new layout awkward anymore. Actually, there is a reason behind this new layout: to stop browser spoofing, which is pretty common these days.
This is just a Beta, the first Beta of Internet Explorer 7, and it was not even made public to the average consumer. It's available only to MSDN subscribers and beta testers. Thus, don't take the problems and the missing features too seriously.
Phishing Filter
First time you open IE, you are asked if you want the new phishing filter active.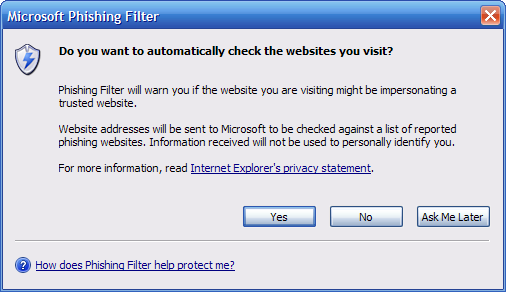 Phishing Filter options
You can later configure the phishing filter from Internet Options.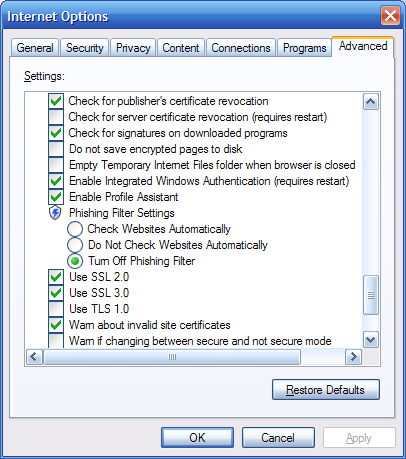 The 'About' window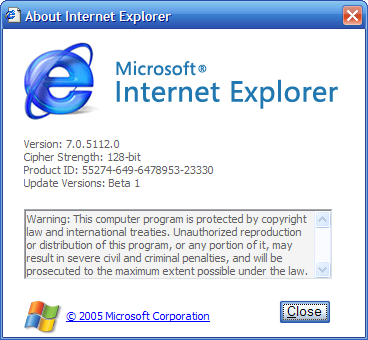 Loading Geekpedia.com
The long awaited tabs are now here.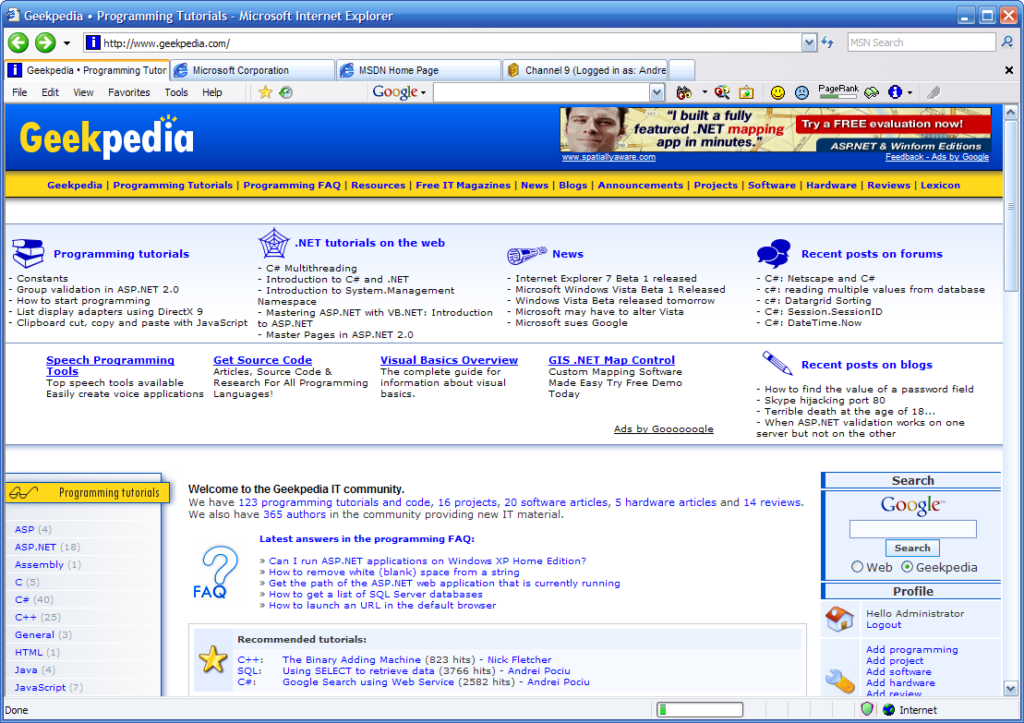 There is a search textbox near the address textbox
The new search box allows you to search one of the most popular 5 search engines. When searching with Google, the integration with the Google toolbar is just perfect, if you search for something such as Windows Vista, the search string will also appear in the Google toolbar and the keywords (Windows and Vista) will be highlighted (if you use this feature of the Google toolbar).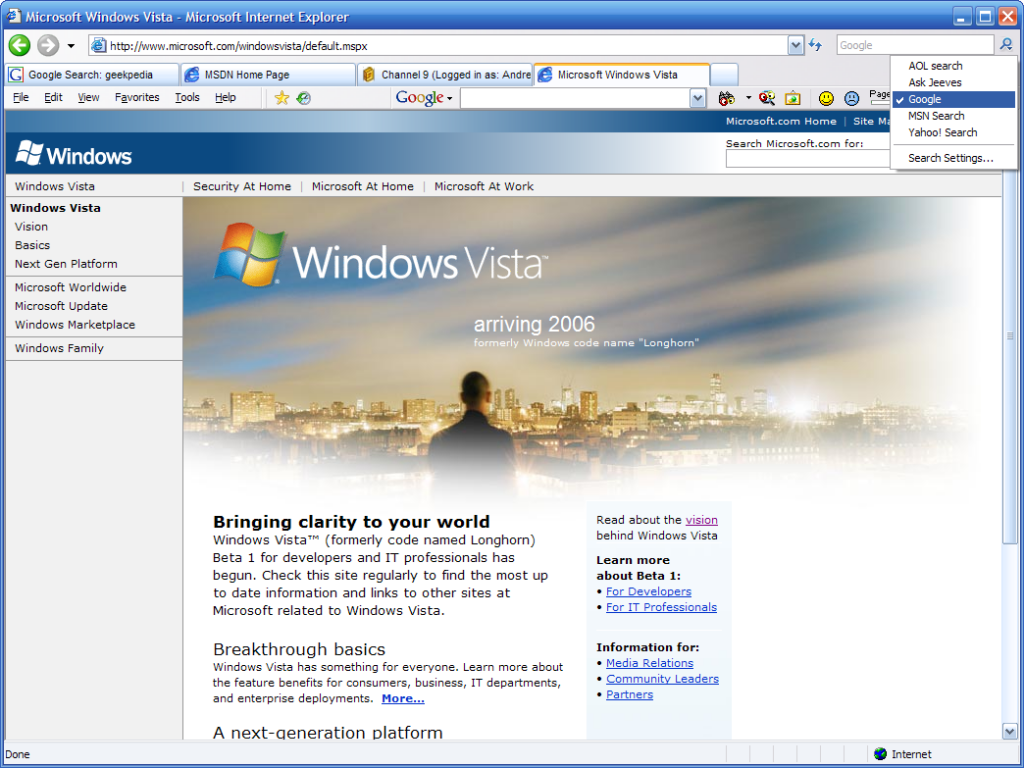 Feed Discovery and XML feed reader
There is a new feature called Feed Discovery which can search the currently viewed website for RSS feeds. Also, now RSS (XML) feeds can be displayed in the window of Internet Explorer 7.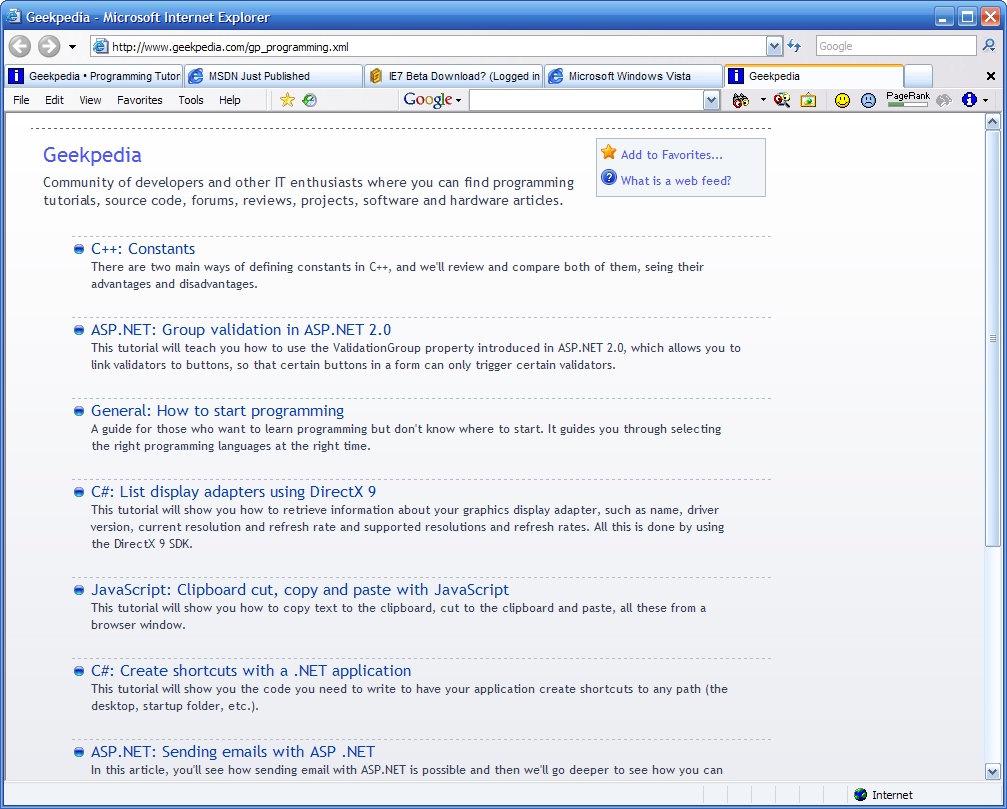 History
History is left unchanged, with the exception that now pages from history can be opened in a new page.